Best Books about Families For Children of All Ages
Our list of the best books about families embraces the differences and similarities all around us. There is no one size fits all when it comes to families. Big or small, we love them all. However, children are curious about how their own families compare to their neighbors or their friends. They wonder how they are the same or different. Same or opposite sex, single parents, extended families, step-families, adoptions, different races, and many more situations make up families today. Yet, underneath it all, love is what makes a family special. Here are 15 Reading Boots favorite books about families for readers of all ages.
Books about Families Ages 0-3
Families (Babies Everywhere), by Star Bright Books. This book shows the love, joy, and fun to be found in all families, human and animal alike. In a very simple format, even the youngest readers can learn about diversity. Not only are the real images and short sentences engaging, but also the board book is nice for little hands.
My Family (Talk-About-Books), by Debbie Bailey. What a great way to allow young children to identify with characters while introducing them to beautiful differences as well! Different cultures, ages, and abilities are portrayed throughout this board book. With real images and simple text, this book captures the diversity in today's families.
Full, Full, Full of Love, by Trish Cooke. Discover the special bond between Jay Jay and his Grannie during Sunday dinner with the extended family. Young children will feel the love in the beautiful, colorful images and rhythmic text.
Love Makes a Family, by Sophie Beer. Regardless of what each family looks like, the unifying theme is love. Available as a board book, the simple text and bright colors are great for young children.
Books about Families Ages 3-6
We Are Family, by Patricia Hegarty. First and foremost, a family is a family no matter what. The differences do not matter because the love is the same. The beautiful artwork gives children plenty to look at and keeps them engaged in the story.
The Family Book, by Todd Parr. No matter what kind of family you have, it is special in its own way. This book embraces family differences in a fun, playful way. With bright colors and simple text, this book is perfect for beginning readers.
Check out this fun strategy that you can use with this book!
Me and My Family Tree, by Joan Sweeney. Have you ever wondered how you fit into your family? One little girl works hard to show how everyone is related in her family. Told from a child's point-of-view, the simple text and colorful, childlike images are easy to follow.
My Family: Love and Care, Give and Share, by Lisa Bullard. Although Matthew's extended family appears different, upon closer examination, similarities exist. Step-families, adoption, siblings, grandparents, parents, siblings, and pets give love and care. Colorful images give a peek into different types of families.
All Kinds of Families!, by Mary Ann Hoberman. This rhyming book simplifies a potentially complex subject by showing how even the simplest objects can be grouped into families. While things may look different from the outside, family love and unity remains strong. Families are discussed in a simple, yet open manner that is easy for children to understand.
Two Homes, by Claire Masurel. Although divorce changes the family dynamic, it does not change a family's love. Alex has two homes, one with mommy and one with daddy. The love is the same at both homes. The gentle text is reassuring for parents and children going through familial changes.
Books about Families Ages 6-8
One Family, by George Shannon. A family can be big or small with various races or genders represented. Using simple counting, the reader sees that one family can equal a range of numbers and ideas. The precise text communicates the subject in a child-friendly manner.
A Family Is a Family Is a Family, by Sara O'Leary. What makes your family special? When a teacher asks, each child has a unique, yet similar answer. The watercolor images nicely depict each child's answer so children easily grasp the message and follow along with the text.
The Great Big Book of Families, by Mary Hoffman. Discover the different types of families, the holidays they celebrate, and the way they spend time together. With various family dynamics and cultures represented, this book opens the door to discussions on diversity. The book is simple, yet straightforward.
Who's in My Family?: All About Our Families, by Robie H. Harris. Join families, friends, and relatives on a trip to the zoo. During their journey, children discover where families live, what they do and eat, and who makes up a family. The charming illustrations and matter-of-fact text describe the different, yet wonderful details of family from a child's point-of-view.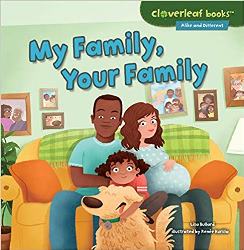 My Family, Your Family, by Lisa Ballard. Makayla loves her family, but a new baby may change that. In order to name something great about other families, she is spending time with different families in her neighborhood. Broken into short chapters for easier reading, this early chapter book uses colorful pictures and simple text for young readers.
Snuggle up with your child and share the love and joy in every family!
Get your Reading Boots on and enjoy the journey!