Best Books for Preschoolers Ages 3-5
Our list of the best books for preschoolers speaks to the vast imaginations and growing independence of this age group. Preschoolers want to laugh, move, and create. Even more, they want to do it all themselves. What makes a great book for young children? One that they ask to read over and over again. Through familiar characters, silly tales, and interactive stories, children will use their imaginations, relate to characters, and laugh out loud. Our list of books for preschoolers includes a few classics as well as newer popular characters. Here are 15 Reading Boots favorite books for preschool-aged children.
Books for Preschoolers That Encourage Imagination
The Book with No Pictures, by B. J. Novak. Who says you need pictures to enjoy a children's book? This book will keep your child laughing time and time again. The only rule is that no matter what is written, it must be said aloud, no matter how silly.
Not a Box, by Antoinette Portis. With a little imagination, a box can become a rocket, a mountain, and more. Discover the joy as a little rabbit uses his imagination to go from pretend to reality. In a simple question and answer format, children can follow along with this creative tale.
Harold and the Purple Crayon, by Crockett Johnson. Simply put, the title says it all. Harold creates his own adventure with a purple crayon and his imagination. The simplicity in the artwork and text makes this a great book for young children.
Cloudy with a Chance of Meatballs, by Judi Barrett. It's not raining cats and dogs in this book. Instead, the forecast calls for spaghetti and meatballs, pancakes, and hamburgers. This comical book will keep your child laughing at the edible weather. Don't miss the change in illustrations as the weather gets crazier.
The Day the Crayons Quit, by Drew Daywalt. Oh no, Duncan's crayons quit! They are tired of only being used for one thing. So, how can Duncan appease them? Your child will enjoy the crayon's silly complaints and the child-friendly drawings.
Books for Preschoolers About Pets
My Pet Wants a Pet, by Elise Broach. A little boy learns about love and caring for something else when he gets his first pet, who wants a pet, who wants a pet, and so on in this charming tale.
Madlenka's Dog, by Peter Sis. A little imagination makes the world of pretend much more realistic. Madlenka wants a dog. However, her parents don't agree. With a little imagination, help from friends, and lift-the-flap pictures, discover the charming story of Madlenka's dog.
Check out this video to learn a fun activity to do with Madlenka's Dog!
Series Books for Preschoolers With Relatable Characters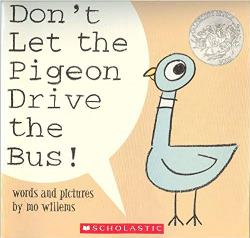 Don't Let the Pigeon Drive the Bus, by Mo Willems. In the first book of the series, we meet the persuasive pigeon who really wants to drive the bus. However, the driver gave specific instructions not to let him. The minimalist pictures and interactive conversation will keep young readers entertained and laughing along with the pigeon's antics.
Pete the Cat and His Four Groovy Buttons, by Eric Litwin. Our favorite cat, Pete, loves his new buttons, but unfortunately he loses them. Does Pete cry? Goodness no. With an upbeat rhythm and familiar refrain, children will chime in and dance along with Pete.
Olivia, by Ian Falconer. Meet Olivia, a pig with spunk, determination, and a strong personality. Your preschooler will relate to Olivia's mentality and activity. Along with short, easy-to-follow sentences, the red, white, and black images add to the book's simplicity.
Books for Preschoolers With Repetitive Phrases
Green Eggs and Ham, by Dr. Seuss. I do not like green eggs and ham. But, would you like them in a box or with a fox, in a house or with a mouse? Classic rhymes, repetition, and silliness make this a great preschool book.
Alexander and the Terrible, Horrible, No Good, Very Bad Day, by Judith Viorst. From the moment he wakes up, Alexander knows he is going to have a bad day. Then, it just gets worse as the day goes on. With simple, easy-to-follow black and white images and a catchy refrain, children will enjoy this classic favorite.
Interactive Books for Preschoolers
Let's Play, by Herve Tullet. What child doesn't like to push buttons and interact with a book? This book plays on the need to touch, wiggle, and move. Just follow the instructions and embark on a magical journey.
The Monster at the End of This Book, by Jon Stone. Grover is determined to keep you from reaching the end of the book. Likewise, he goes to extreme lengths to avoid the monster. This classic board book will keep children laughing and turning the pages.
Tap the Magic Tree, by Christie Matheson. Every book needs you to turn the pages. But, this book needs taps, wiggles, kisses, and more. Follow the directions to help a tree change throughout the seasons.
Snuggle up with your child and enjoy our favorite books for preschoolers!
Get your Reading Boots on and enjoy the journey!