Baby's First Library: 21 Must-Have Books and Essentials
Many parents have happy memories of being read to as a child, delighting in the adventures of their favorite book characters and enjoying the shared parent-child experience. Creating a library for your baby is an exciting way to ensure that you and your child will make new and lasting memories together.

There are endless choices of books for baby's library. I recommend choosing board books when given the option, as they are durable and facilitate baby's page-turning interaction. This collection of "must have" books will ensure a variety that will continue to please as your baby grows. Look for links to our favorite Reading Boots videos, by Alyse, to go along with some of the titles.

Books that send messages of love
On the Night You Were Born, by Nancy Tillman, a beautifully illustrated book that celebrates baby's birth and conveys unconditional love.

I Wish You More, by Amy Krouse Rosenthal, clever text and joyful illustrations, filled with abundant good wishes for baby. (Not available in board book, but a Reading Boots favorite)

Classics
The Very Hungry Caterpillar, by Eric Carle, a hungry caterpillar eats his way through the pages of the book up to a spectacular ending.

Check out a fun Reading Boots strategy Movement Surprise to use with this book!

Goodnight Moon, by Margaret Wise Brown, since its publication in 1947, a favorite bedtime story told in simple, poetic text.

Brown Bear, Brown Bear, What Do You See? by Bill Martin, with illustrations by Eric Carle, rhythmic and repetitive language, along with lift the flaps in this version, encourages parent-child interaction.

Touch and Feel
That's Not My Puppy: It's Coat is Too Hairy, by Fiona Watt, an Usborne Touchy-Feely book. There are many choices for subject matter by this author. Whimsical illustrations and interesting textures for baby's exploration.

Baby Animals, by Roger Priddy, appealing photography, rhyming text, and touch and feel textures. Many varieties of titles and subject matter available in touch and feel from this author.

Books with Flaps
Do Cows Meow? by Salina Yoon, fun, rhyming text with bright, bold illustrations, and large flaps to encourage baby's interaction.

Check out a fun Reading Boots strategy Guess the Rhyme to use with this book!

Where's Spot? by Eric Carle, classic lift-the-flap book, an interactive hide and seek story, searching for puppy, Spot.

Where is Baby's Belly Button? by Karen Katz, cute drawings of babies playing peekaboo, using interactive flaps to reveal familiar body parts.

Alphabet Books
Alligator Alphabet, by Stella Blackstone, great first alphabet book with cute and colorful illustrations.

Eating the Alphabet, by Lois Ehlert, introduction to alphabet letters through vibrantly colored illustrations of fruits and vegetables.

First Word Books
First Words, by Roger Priddy, a beginner first word book, with one picture on a page, facilitating focus on the image and vocabulary.

First 100 Words, by Roger Priddy, big book filled with 100 images that baby will begin to recognize and identify.

Check out a fun Reading Boots strategy Quick Tip on "First 100 Words" Books to use with this book!

Song and Rhyme Books
Head, Shoulders, Knees, and Toes, by Annie Kubler, specially designed for babies, with illustrations of infants engaged in the activities. A fun and interactive experience for baby and parents.

If You're Happy and You Know It, by Annie Kubler, another fun and interactive Kubler book designed for babies.
Popular Series
Little Blue Truck, by Alice Schertle, introducing Blue and his friends, told in rhyming text with endearing illustrations and lots of animal and truck sounds to amuse and entertain.

Check out a fun Reading Boots strategy Robot Words to use with this book!

Llama Llama Hoppity Hop, by Anna Dewdney, Llama Llama is a likeable little llama with feelings and experiences that little ones can understand. There are many titles in this series, some with more text and storyline. This title is a perfect introduction, engaging your child in physically participating along with Llama Llama.

Check out a fun Reading Boots strategy Action Words to use with this book!

Llama Llama Zippity Zoom, by Anna Dewdney, another Llama Llama early experience, this time with sounds.

Pete the Cat: I Love My White Shoes, by James Dean, Pete is a fun and super-cool cartoon character who will have you and your child "grooving" along with his adventures. Although this title is not available in board book, it's a must for a child's library.

Pete the Cat, Wheels on the Bus, by James Dean, available in board book, humorous illustrations add extra fun to this groovy twist on the popular song.

Setting Up an Inviting Library Space

Bookcase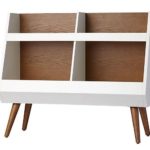 There are many varieties of bookcases on the market. If you're looking for a lasting piece of furniture, this Walnut and White Mid-Century Bookcase from Crate&Barrelbookcase will be useful as your baby's library grows in the future. Books are accessible at the child's reach, and the titles are visible to the parents.
For a more economical choice, this Kidkraft Nantucket 2-shelf bookcase is a standard design and will function well in baby's library.

If you want a more colorful look, this KidKraft Sling Bookshelf is a perfect choice that enables little ones to retrieve and organize books themselves.

Plush Book Characters
Book character plush animals, dolls, and toys are an appealing addition to a bookcase. These character toys help bring the books to life and will soon become favorite "friends" of your child. The plush characters can be included as a "participant" in read aloud time, encouraging countless make-believe opportunities.

The Very Hungry Caterpillar Plush Toy

Little Blue Truck Soft Toy with Sound

Other Accessories
Fatboy Edison, the Petit Lamp, is a cordless, rechargeable, portable lamp that provides three shades of LED light, perfect for bedtime reading.

Candlestick Table Lamp by Aspen Creative, has a cloth shade for a soft glow and will fit nicely in small spaces.

Memorable Moments Book Nook Sign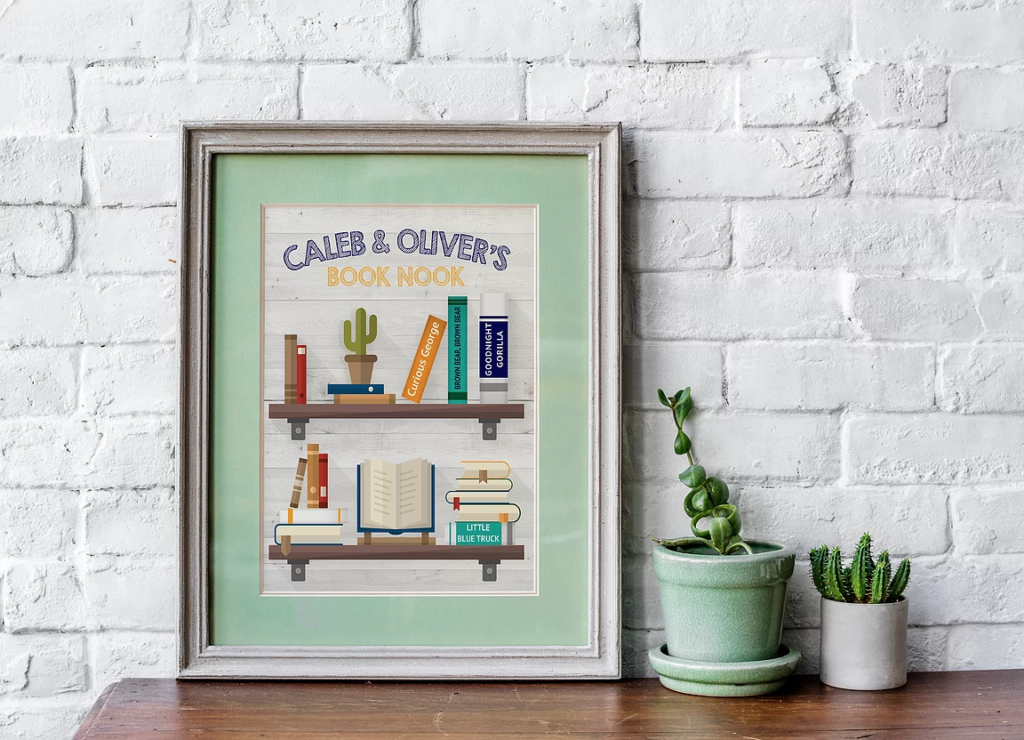 A personalized, framed poster to hang on the wall above baby's library is the finishing touch. Memorable Moments customizes appealing designs that include baby's name and pictures of books with personally selected titles. Use coupon code READINGBOOTS10 to get a 10% discount.

Your baby's first library is all set. Now you're ready to start making memories.
Get your Reading Boots on and enjoy the journey!